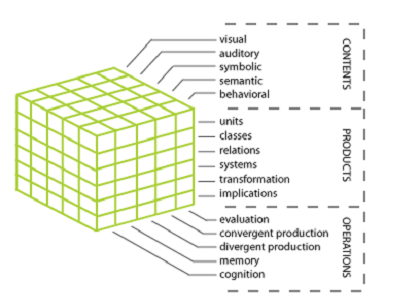 The Structure of Intellect is a theory of human intelligence that was developed from 1945 to 1965 by Dr. J. P. Guilford and his colleagues at the University of Southern California. The SOI is the application of the Structure of Intellect theory to various learning situations. It has been in continuous use and development from 1965 to the present.
SOI applies the Structure of Intellect to learning - general education, reading instruction, remedial education, gifted education, training and retraining, and career counseling. SOI is applicable to all of these diverse areas because it identifies how human intelligence and its development (or lack of development) is related to demands of learning.
Those who have used SOI tests and training materials have reported higher achievement, successful school and experiences, and improved self-concepts.
The SOI process is simple:
1. Assessment: The SOI test will identify the student's learning abilities. Tests are appropriate for ages five through adult.
2. Identification: An analysis is generated based on the student's test scores. It profiles the following areas: cognition, evaluation, memory, creativity, and problem-solving.
3. Training: Personalized training materials in the form of paper-pencil and/or computer are available based on the student's test results. Low abilities are targeted at the beginning of the program. Average to high abilities are further strengthened.